Zollars is a twisted name for the word "dollars" in Zombie HQ and is a common in-game currency that can be obtained in many ways such as completing missions, killing infected, searching containers, using certain furniture or winning it at the slot machine.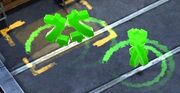 Frequency/Usage
Edit
Zollars is used to upgrade weapons, restock certain explosives, unlock furniture and weapons as well as gambling it to win gold or extra explosives at the slot machine. Zollars is a very frequent in-game currency and being so means that player's won't have to necessarily buy Zollars with ITunes money as it's frequency makes in-game purchases optional.
Ad blocker interference detected!
Wikia is a free-to-use site that makes money from advertising. We have a modified experience for viewers using ad blockers

Wikia is not accessible if you've made further modifications. Remove the custom ad blocker rule(s) and the page will load as expected.